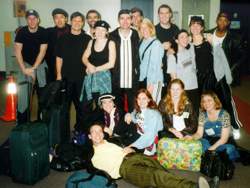 It was a long flight, but we earned our Mile High Lindy Club badges by doing swing-outs in the aisle. As soon as we arrived in the San Francisco airport, we stopped to pose for this picture.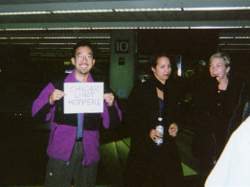 Once we made it to the baggage claim, we were greeted by our hosts. Good thing Ken had that "Chicago Lindy Hoppers" sign or we might never have found each other!
---
After the airport, we went straight to Ashkenaz to dance the night away. As Young-Jin so eloquently wrote, it was love at first sight between the Chicago and SF hoppers.
---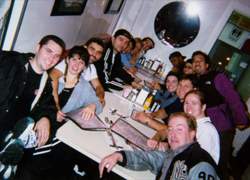 After Ashkenaz, Chicagoans experienced the first of several trips to Lori's Diner.