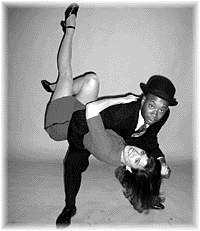 About the instructors ...
Riley Wimes Jr. and Margot McGraw have been dancing, performing and teaching together since 1998. They are well versed in Lindy Hop, Charleston, Collegiate Shag, Balboa and East Coast Swing. They routinely teach in the Chicago area as well as perform and lecture grade school and high school students on jazz dancing and music. Riley (known for his obvious street style, drops on the fly, and keen sensitivity to music) and Margot ( known for precision, grace, turns and splits) bring opposite sides of the tracks together for a dynamic dance experience.

Competition and performance credits:

1999-2001 Great Lakes Regional Champion (ALHC American Showcase Division) 1st place
1999-2001 American Lindy Hop Championship Finalists-(ALHC American Showcase Division) PPlaced among top 10 in the nation.
2000 American Lindy Hop Championship Cabaret Division-The Chicago Shag Team, 2nd place
2000 North Atlantic Dance Championships Strictly Lindy 6th place; Riley- Jack and Jill Finalist
2000 Wynton Marsalis and the Lincoln Center Jazz Orchestra For Dancer's Only Tour performed at Navy Pier Ballroom alongside Janice Wilson and Paolo Lana
2001 The Living Room Dance Contest- 1st place (First Lindy Hop Couple to ever win the title, traditionally won by Chicago's top West Coast swing competitors)

Classes!
New May Classes at Rumors
Lindy Charm and Swinging Charisma: Footwork, Breaks, Style and Shine - This series will be for intermediate/advanced dancers who have a solid understanding of six-count, and a good foundation in the basic footwork, swing-out, circle, and framing of Lindy Hop! This will be a challenging class and fluid triple steps will be necessary. We will teach different moves, technique, and breaks each Thursday in May. While each week can be independent of the other, the knowledge gathered will flow seamlessly if you indulge for the entire month . These classes will be $10 per walk-in or $40 for the series if registered in advance. There are five weeks in May. You do the math!
Class runs from 7:15-8:15 p.m.
Every Thursday in May
Class fee- $10 per class or $40 for a 5-week series
Click for registration form


Introduction to Swing Dancing 6- and 8-count patterns - Our Thursday class is designed to give you a quick introduction and get you dancing to our bands and DJs at our Thursday Night Live at Rumors affairs. We will give you a basic understanding of the dance, connection, footwork, and movement, but we will not follow a progressive order. While we may not teach the same specifics each Thursday, we will teach the same general basics and fundamentals with variation on the moves from week to week. These lessons are a great icebreaker to introduce this dance and also meet new friends. This class is a pay as you go class and it is $5 payable to the instructors at the beginning of each evening. This one low fee also entitles you to an evening of dancing to live bands (on most nights) and the best DJs.
Class runs from 8:30-9:30 p.m.
Ongoing every Thursday night
Class Fee -$5 each class payable to the instructor at each class
(no registration necessary)


---
All classes take place at Rumors Bar and Grille
4500 N. Lincoln Ave., Chicago, IL
Click for location map
---


For more information, contact us at 312-371-4753 or email: rumorswings@lycos.com

CLASS REGISTRATION | BACK TO HOME PAGE